JBL GTO-804EZ (4-CHANNEL CAR AMPLIFIER)
Mô tả sản phẩm
Efficient power for your music always set correctly
JBL's compact GTO-804EZ 4-channel amp will drive each of your front and rear speakers with 80 watts RMS, bringing exciting, visceral impact to the music in your car. Or, bridged in 2-channel mode, it can run a couple of subs with up to 200 watts each. This amp looks very cool with its "old-school" styling, and JBL includes a few innovations that really separate this amp from the others.
Simple Setup System for setting amp gain
One of the biggest problems with installing an amplifier is setting the gain properly. JBL has come up with a fool-proof method for getting it right, ensuring full-power performance and distortion-free play. Using test tones on the included setup CD, you adjust the gain knob until the yellow light or the red light goes off, and the green "Gain OK" light comes on — it's that simple. You'll never have to worry again about your amp "clipping" the signal, and possibly damaging your speakers or subs.
Plays well with factory radios
This GTO amp comes with screw-on bare wire-to-RCA adapters that let you hook up the amp, using your car's factory speaker wiring to supply the input signal. In some vehicles, the factory radio shuts down when you try to tap into the speaker wires, displaying a "no speakers are present" message. This amp features a special circuit that fools those factory radios by simulating a speaker load. The onboard crossovers and bass boost let you fine tune the system to perfection, and the large recessed knobs mean you don't need a tiny screwdriver to make your adjustments.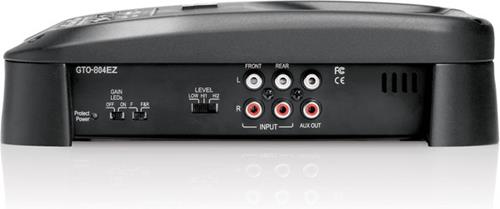 PRODUCT HIGHLIGHTS:
4-channel car amplifier
80 watts RMS x 4 at 4 ohms (100 watts RMS x 4 at 2 ohms)
200 watts RMS x 2 bridged at 4 ohms (4-ohm stable in bridged mode)
CEA-2006 compliant
frequency response: 20-23,000 Hz
Class AB amp technology
variable low- and high pass filters (40-220 Hz, 12 dB/octave)
variable bass boost on rear channels (0-12 dB at 45 Hz)
Simple Setup System with test tone CD for perfect gain setting
routing switch for 2-channel sources
preamp outputs
preamp and speaker-level inputs (speaker wire-to-RCA adapters included)
switchable automatic signal-sensing turns on amp without need for remote lead
fuse rating: 25A x 2
8-gauge power and ground leads recommended — wiring and hardware not included with amplifier
11-15/16″W x 2-5/8″H x 9-11/16″D